Every year over 12 million tourists visit Rome for an average of 2.6 days each.
In that time they rush around frantically to see the Colosseum, the Trevi Fountain, St Peter's Cathedral and other tourist sites sending postcards to friends and loved ones as they go.
A couple of miles away, driven out of the centre by rising prices, normal Romans live in a very different city, where crumbling estates, uncollected rubbish and tight-knit community are the building blocks of daily life. Many of them have never been to the Colosseum or sent a postcard.
Roman Postcards is the tale of these two cities, a collection of stories and messages written on the back of postcards, both by the tourists, visiting for a couple of days and by the Romans who have never left their estate.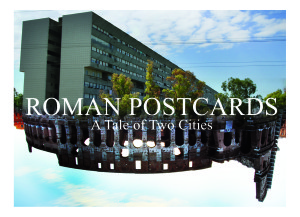 Shot as part of the 2014 Document24 Creative Scotland Scholarship at the British School at Rome.