Writer/Director/Producer (Experimental; 6min; April 2004)
Produced by Tomás Sheridan
Thomas Scheriden was one of Germany's most important influences on expressionist film; however his life is surrounded by mystery. His work was believed to have been lost during WWII bombings, however in 2002 nine reels of film dating back to the early 1920s where donated to the Frankfurt Filminstitut. These reels prove to be all that remains of a 1919 film by Scheridan known as Die Kiste, or The Box, written and filmed shortly after Scheriden's return from the front.
Envisioned and filmed in the dark years of post WWI Germany this film perfectly captures the anxiety and fears that defined those years. What is in The Box? What drives mankind? is it curiosity or is it fear…
Expert opinions diverge, some believe this to be the only example of the work of a great master whilst others perceive it to be an elaborate hoax, engineered by a film student in 2nd year at Napier Edinburgh University… To this day we still are not sure what the truth is…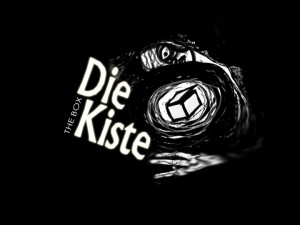 Short experimental piece aimed at emulating the themes and styles of German Expressionism.
Die Kiste was shot on standard 8mm expired soviet film in an attic in Napier University's photography department. The £200 budget went entirely on stock and processing. Those were the days!!!